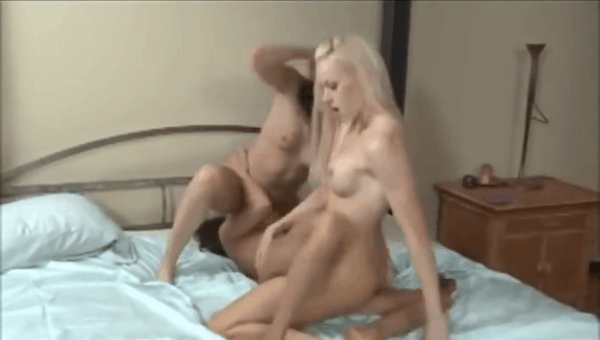 Finally, June and time for the conference in Vegas. Due to scheduling problems, I would arrive one day before Carol. For the first few days we would be staying with my college buddy Reese. We were frat brothers back in school and best man at each others weddings. Any time I was in Vegas, we'd get together and raise some hell. Reese is a plastic surgeon, so Vegas is a goldmine for him. Boobs, butts, facelifts, you get the idea. He has an estate about 40 minutes out of town. Huge house, pool, guest house, all in the middle of 600+ acres.
Unfortunately, his wife ran off with her boytoy about 10 years ago, so he lives there alone. Well, not exactly alone. There are always beautiful women around. He says he won't ever marry again after the nasty divorce, but a man has needs, and a man with Reese's money can get pretty much whatever he wants. I explained to Reese about Carol. He remembered her from college.
"She still horny all the time?" He asked.
"Even worse." I replied.
"Lucky bastard." He snorted.
Reese picked me up at the airport and we headed back to his place. We spent the evening catching up and getting hammered.
In the morning, he left for the office. "Gotta work til about 5PM, take one of the cars, keys are hanging in the garage." "I'll be back here by 7 or so, we'll grill some steaks and hang by the pool."
Carol's flight was arriving at 5:15PM, so I needed to leave around 3:30 or so just to be sure. I went to the garage and looked over my choices. Reese had quite a collection. Restomod 69 Camaro, Audi R8, Ford Raptor, he was driving the Porsche, but what caught my eye was a red Shelby Mustang convertible. I snagged the keys and left for the airport. Carol's flight was on time. She texted me as soon as she could. I told her I was in the pickup area and I'd see her shortly. Look for a red Mustang. When she came out, she lit up when she saw me.
"Hello lover." She purred. "Been looking forward to this for awhile."
"Me too." I said, throwing her bags in the trunk.
I hopped back in the car, gave her a passionate kiss and we took off.
As soon as we cleared town, I opened up the Shelby. Of course the top was down, so I could really hear the V8 sing. Even back in college I was known for having fast cars, my nickname was "Wheels". I was rather notorious for high speed runs.
Carol had a thing for speed just like me, so I nailed the gas. The road to Reese's place was wide open with nowhere for cops to hide. I ran the speedo up to 130 mph. God what a rush! Can't drive like this back home. Between the speed and the vibrations running through the car, Carol was getting really turned on. Before long, she started shedding her clothes and was soon buck naked in the seat next to me. She was making it difficult to keep my eyes on the road.
"Faster." She commanded, as she started to rub her pussy.
Ever the gentleman, I did as she asked. The faster I went, the faster she worked her pussy.
At 160, she screamed and came, then with a devilish grin, stuck her fingers in my mouth. "See how wet you make me." She giggled.
"Jesus woman." I gasped. "I hope that works as leather conditioner, or I'm going to have to buy Reese a new seat."
She was literally sitting in a puddle of her own love honey.
"I'm sure he won't mind." She countered. "Makes the car smell better too!"
I just grinned and slowed to a more reasonable 125mph. We made it back and pulled in the garage. Carol was still naked, so as soon as we stopped, I ran around to her side, yanked her out of the car, bent her over the fender and shoved my throbbing hard-on in her still dripping pussy. I jackhammered her, but was rather over-excited from the show, so it wasn't long before I grunted and emptied my balls into her hot cunt. I stood her up and tenderly hugged and kissed her. "God you drive me wild."
"Glad you enjoyed it." She cooed. "There's a lot more to come." Then she giggled slyly.
This is going to be one helluva week, I thought to myself.
Carol was very impressed with Reese's place and stared in wonder as we walked through the house.
"Must pay well." She mused.
"Apparently." I added. "Plenty of silicone in Vegas, somebody's gotta install it."
After settling in, we went for a swim. Carol was still naked, so I joined her. We splashed and played like a couple of kids for awhile, kissing and groping each other.
"Guess I'd better go put on my swimsuit." Carol said. "Wouldn't want to upset our gracious host."
"I don't know about that." I said. "But I need to, I'm sure Reese has no desire to see me naked."
We were both dressed and well behaved when Reese came home. Introductions were made and pleasantries exchanged.
"You're just as pretty as I remember." Reese beamed.
"Liar!" Carol smiled. "But I'll take the compliment."
"If you guys are hungry, I'll grill some steaks?" Reese inquired.
"Famished." Carol interjected. "Point me to the kitchen and I'll make us something to go with them."
She left with Reese and I was left alone for the moment.
Reese returned shortly with 3 huge steaks. "She's even more beautiful anadolu yakası escort than I remember." He observed. "I wish I'd have aged as well." With that, Reese pointed me towards the door. "Grill's this way." He said.
As he cooked the steaks, we talked and drank some beer.
When he was done, we headed for the dining room. Carol was there with the salad she had made. She also make a nice fruit plate and a large pitcher of sangria.
"Hope you don't mind, kinda made myself at home?" She smiled.
"Just what the doctor ordered." Reese punned.
We had a nice meal and caught up on old times. The sangria was a big hit and a second pitcher was made and consumed. After dinner, we retired poolside and continue the conversation.
After awhile, Carol broke away and dove in the pool. Reese and I followed suit shortly thereafter and we relaxed, soothed by the warm water. Carol was wearing a rather conservative one-piece suit in lemon yellow, or so it appeared. When the suit got wet it became completely transparent, putting all of her ample assets on display. I stared unabashedly, of course, but poor Reese was trying to play it cool. Unfortunately, the tent in the front of his suit betrayed him. I forgot to mention Reese's nickname in college. We called him "Python". While my cock is pretty big, Reese is HUGE. He's 9 inches long and probably 8 inches around.
He was always very popular with the ladies and I assume he still is. It was actually rather funny to watch. Reese trying not to stare at Carol and Carol trying not to drool over what was, I'm sure, the biggest dick she'd ever seen.
After we'd tired of the pool, we got out wrapped up in some towels and went into the house. Carol excused herself for a moment. Reese and I spread out on a couple of sofas on the sunporch facing each other.
"She's still something isn't she?" He grinned.
"You have no idea." I said. "I thought she was horny in college, but now I think she could fuck the dick off a marble statue."
"I repeat, 'lucky bastard.'" He laughed.
Carol returned, still wrapped in her towel.
"You boys miss me?" She smiled, staring at the tent in Reese's shorts.
Before we could answer, she dropped her towel, revealing her now completely nude body. Without a word, she kneeled in front of me, opened my towel and pulled off my trunks. My stiff boner immediately sprang out and wasting no time, she shoved it in her mouth. As she was working me over, she shook her ass, I'm sure trying to entice Reese into fucking her with that beast.
Reese sat there staring at Carol's ass with his mouth hanging open, making no attempt to hide his cock anymore.
Upping the ante, Carol started running her fingers through her wet slit, giving Reese a real show. He, in turn, tore off his trunks and started stroking his raging hard-on.
Turning back to me, Carol attacked my cock and in record time had me shooting my load into her mouth. As always, she swallowed it all, then stood up. "Do I have to do everything around here?" She spat." Damn geeks."
She then turned toward Reese and with a devilish grin on her face, straddled his legs. "I'll take that." She said, as she removed Reese's hand from his cock. She started rubbing her pussy up and down Reese's impressive member, lubing it with her juices. When it was thoroughly coated, she looked him in the eyes, stuck her tits in his face, rose up, and placing the head of his cock at her opening, sat on him. The look on her face was one of pure animal lust.
Her pussy spread wider than it ever had to take him in and she shrieked and orgasmed the moment it hit bottom. She sat dazed for a few seconds, then with renewed energy, started really fucking him. She pulled out almost completely, then slammed back down on that monster cock again and again. All Reese could do is moan and babble while trying to suck and bite Carol's nipples bouncing in his face.
Every 10 strokes or so Carol would cum and I must admit, I was impressed with Reese's stamina, she had 5 or 6 orgasms before he could hold out no more and blasted her insides with his hot cum. For a few minutes they sat there, her still impaled on his slowly deflating member and him with a nipple in his mouth.
Soon, Reese's cock slid out of Carol, with a gush of juices. She slowly got off of him and knelt down and with tongue and lips, cleaned up the mess. She kissed him and thanked him for dinner and "dessert" and picked up her towel and went to bed.
Reese sat there stunned for a moment and before he could say anything I assured him I was completely OK with what happened.
"There's more than enough to go around." I laughed. "I think she could fuck us both to death and still want more." "Thanks for a great evening and thanks for opening your home to Carol and me." I told him. "I think I'll hit the hay as well, though I fear I won't be sleeping anytime soon."
"I, on the other hand, will sleep like the dead." Reese said. "I haven't been fucked like that in a long time." "Most women can't take me, I'm too big." "She's something." "I'll be gone when you two get up, still gotta ataşehir escort work." "Carol seems to know her way around the kitchen, so I'm sure you'll find something to eat that doesn't have hair on it." He grinned.
With that, we said our goodnights and when to bed.
When I got to the bedroom, Carol was just getting out of the shower. "Wish you'd waited." I said. "Showering with you is one of my most favorite things."
"There's plenty of time for that." She giggled. "I was afraid you'd have to do CPR on Reese, so I didn't know how soon you'd be back."
"He did say he hadn't been fucked like that in a long time, but you didn't kill him." I added. I noticed a strange look in her eyes, so I asked. "Something wrong?"
"I hope I didn't upset either of you." She stated unsurely.
"I know Reese had a good time, and as I've said before, I have no claim on you." "Besides, watching you fuck Reese was, without a doubt, the hottest thing I have ever seen."
"I didn't think your little pussy could handle him, but that was obviously wrong."
"Sometimes I think a bit too much with my little pussy." She admitted. "I was afraid it had gotten me in trouble."
"Not at all, you're the kind of trouble I could get used to." I said taking her in my arms and kissing her deeply. I smacked her on the ass and went to take my shower. I crawled into bed afterward and Carol snuggled up next to me. I really enjoyed her warm hands and soft tits touching me.
"Can I ask for a favor?" Carol asked.
"Anything." I responded.
"Would you eat me?" She whispered. "I've missed that amazing tongue of yours since we were together last."
I was a little curious why she asked instead of just sitting on my face, so I asked. "Why the request, you know I love to eat pussy, especially yours?"
"I was afraid you wouldn't want to eat me with another man's cum in me." She said. "And in case you're worried about that, I cleaned everything out, as best I could."
"I've never really thought about it." I stated. "I've tasted my own cum on your lips after you've blown me and I don't find it unpleasant." "I don't think I'd want to eat a full load of cum, his or mine, out of you, but…" Then I rolled her over on her back, spread her legs and dove into her cunt.
She squealed as my tongue made contact with her clit. Soon I had her moaning and squirming as I worked my magic on her button.
I took my time, stopping several times when she got too close. I wanted to tease her for awhile. Soon she was begging me to make her cum. When that didn't work, she tried to sneak in a finger or two. I grabbed her hands to let her know that was a no-no and went back to work.
"Please make me cum, I can't take it anymore." She panted.
I got out of bed, making Carol squirm even more. "Come with me." I said, putting out my hand.
"Will you make me cum?" She pleaded
"Yes, but only if you do what I say." I commanded.
She put out her hand, and we left the bedroom. I had a plan that would not only blow her mind, but give Reese a thrill too. We went to the kitchen and I instructed Carol to get up on the island countertop.
She was so intent on her impending orgasm that she didn't see what I had seen earlier. Directly over us on the ceiling was a security camera. They were all over the house, and I'm sure they lead to some sort of recording device. I'm pretty sure there is one in our bedroom, I'd do it if it were my house, but I wanted to make this memorable.
After she was on the counter, I again started licking and sucking her clit, only this time, I tweaked her nipples too. The placement under the camera was perfect. Reese would get a really great view of her swollen pussy lips and erect nipples. I only hoped he popped extra for HD equipment.
I was edging her towards orgasm, but still took my time. She was panting and moaning, pushing my head into her cunt with both hands.
"I'm… g-gon-nnnaaaa…c-c-cummmmmm…" She shrieked and convulsed, cumming so hard she was left breathless.
I kissed her and she sucked her juices off my tongue and face. "Damn, you're still really good at that." She gasped.
I just smiled , picked her up, looked into the camera, winked, and carried her back to the bedroom. I carefully laid her on the bed, crawled on top of her and plunged my raging boner into her overheated twat.
She immediately re-ignited and started clawing my back and biting my shoulder.
I reached under her and grabbed her ass cheeks and really started pounding her. I shoved my cock into her, slamming in and out, all the while she's babbling and panting. "Fuck meeee." She pleaded. "Give me that cock." "Make me cum again."
With that extra incentive, I really let her have it and before long we both had mind-blowing orgasms and I pumped her full of semen. I rolled off of her, spent, gasping for breath. I looked over at her and she was panting also. She rolled over, kissed me, put her head on my shoulder and with a big smile on her face, went immediately to sleep. Job well done, I did the same.
I awoke the next morning to an empty bed. Curious, ümraniye escort I checked the bathroom. No Carol. Since it was after 10AM, I knew Reese was already long gone, so I didn't bother to dress. I headed to the kitchen to get some breakfast. On the way, I found Carol asleep on the couch in the sunroom, naked.
She stirred when she heard my walk by. "Morning lover." She cooed. "Sleep well?"
"Died." I replied. "Only woke up because I'm hungry." "How long you been up?" I asked.
"I woke up about 7, starving, so I came out here." "While I was fixing some breakfast, Reese came in, so I made him an omelet and some fresh OJ."
"Were you dressed?" I queried, not seeing any sign of her clothes.
"I was wearing an apron." She grinned, holding up a ruffled piece of cloth that tied around your waist. "Besides, I didn't want to wake you rummaging around for something to wear."
"I bet Reese liked that." I kidded.
"He seemed appreciative." Again she smiled. "Only stuck himself with his fork a couple of times."
"You didn't send the poor guy off to work with a boner did you?" I asked.
"Let's just say I impressed us both when I deep-throated that bad boy." "You know how much I like sucking cock." She purred.
"Well, I'm impressed as well." "He's quite a mouthful." I laughed.
"You're telling me." She giggled, rubbing her jaw. "Can I make you some breakfast?'
"One of those omelets would be fab." I said. "But I can do it myself if you need more sleep."
"Nah, I'm good." She said and headed for the kitchen.
I watched her naked ass as I walked behind her.
She turned and saw my hard-on. "See something you like?"
I put my arms around her and cupped her tits while sticking my dick between her thighs. I kissed her neck softly causing her to tremble and sigh.
"Later." She said. "I'm already horny as hell after blowing Reese." "Let's get you some food so you'll have the energy to fuck me properly."
While eating, my phone beeped. Reese sent me a text. "U up yet LOL" "saw the security cam HOT THX"
"Reese?" Carol inquired.
"Yeah." "Wanted to know if I was up yet?" I answered.
She grabbed my cock. "Tell him you are indeed up." She leered.
I shot him a quick text, finished my breakfast and pondered my options.
Before I could act, Carol said. "By the way, you've been bad."
"Oh." I shot back. "In what way?"
Pointing a finger at the ceiling she said. "Camera, pretty sure you knew it was there."
"I did." I admitted. "I'm sorry, I should have OK'd it with you first."
"Don't be." She said. "You know I like to be watched." "I noticed it about halfway through you eating me." "Why do you think I came so hard?" "It was because I knew Reese would see it."
"Still, shoulda told you." I admitted.
"Wanna give him some more to look at?" She asked.
"What do you have on your dirty little mind?" I smiled.
"Let's look around and see what's on camera, then I'll let you know." She beamed.
We spent the next couple of hours wandering around the house and grounds, naked of course, searching for the perfect spot. At the back of the house, we opened a set of double doors. I was expecting to find the master suite, but instead was met with the sight of book. Lots and lots of books. Reese's library probably had 2000 books, maybe more.
I looked over at Carol, she just stood there stunned.
"I've never seen this many books in someone's home, Hell, I seen libraries with less." "Fuck me here!" She demanded. "I love the smell of old books, FUCK ME HERE!" She lunged at me with fire in her eyes.
All I could think was, "Oh Shit!! I'm in trouble." I've seen Carol worked up before, this put all those times to shame. She was possessed, driven mad with passion. She grabbed me and stuck her tongue down my throat, panting and moaning the whole time.
Frantically she scanned the room for the perfect place to fuck the living shit out of me. I was NOT in control of this situation. All I could do was hold on and hope she didn't kill me. Quickly, she settled for a large, sturdy table in the center of the room. "Get on the table." She growled.
I did as I was told.
She jumped up on the table and stood over me. She looked down at my now stiff dick like a hungry dog looks at a bone. In one swift motion, Carol dropped to her knees and stuffed my cock in her very wet slit. She sat at full penetration for a few seconds. "Grab my tits." She hissed. "Pinch my nipples and pull on them."
Happy to comply, I started tweaking her rock hard nipples.
"Harder!" She demanded as she started hammering her pussy on my member. "HARDER!!"
I pulled on her nips so hard, I was afraid I'd hurt her, but it only fanned her fire. The harder I pulled, the louder she screamed and the faster she impaled herself on my cock.
Sweating, heaving, lunging, she spun herself towards release. I'd never seen her this consumed with lust in all the years I've known her. It was both thrilling and terrifying. She was approaching orgasm at light speed and I was right there with her. When she finally screamed and came, it was like someone hit her with 50,000 volts of electricity. She stiffened and twitched uncontrollably for probably 45 seconds, overwhelmed by the intensity. This wasn't a multiple orgasm, it was a continuous orgasm. It went on, without letting up. The nearest thing I've seen to it was a grand mal seizure.