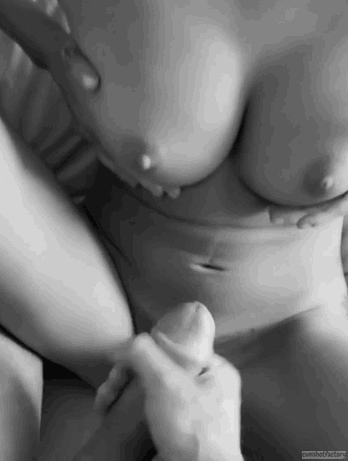 It was Saturday night and I was home alone working on my dissertation. I had a roommate named Robbie—some obnoxious undergraduate that I had ill-fatedly agreed to sublet my spare bedroom to—but he wasn't home. Probably out partying like the rest of the campus.
I, on the other hand, had a deadline to contend with. I had a few glasses of bourbon as I worked, but I was all business. At around 12:30 am, I was just about to turn in for the night when I heard Robbie's keys jingling at the door.
The door swung open violently and Robbie stumbled in drunkenly, nearly tripping over the hallway carpet. He had company; a cute Asian girl followed him in, giggling at his clumsiness. God, did she look good…
I know it probably makes me sound like a dinosaur—but when I was an undergrad, girls did not dress like they do now. Robbie's date had on a pair of tiny black leather shorts that barely covered half of her ass. Her shirt—if you want to call it that—was a cut-off tank-top that showed off her toned stomach and came down just past her perky breasts. In fact, I could see enough of the underside of her big tits to know that she was definitively not wearing a bra.
"Oh hey bro," Robbie slurred as he finally noticed me. "Right in there," he said to his date, directing her into his bedroom. He gave her a playful pat on her perfect ass. "I'll be right there," he said winking.
"Mmm, don't be too long or I'll start without you," she said smiling.
Robbie chuckled as she closed the door to his bedroom behind her. "Yo, dude, this girl is so DTF," he said as he stumbled past me on the couch and headed towards the bathroom.
"Nice," I said politely. I was hip enough to at least grasp Robbie's 'down to fuck' reference.
Robbie rumbled into the bathroom, not bothering to close the door. I heard him start to take a piss. I gathered up my work and put it on the kitchen table. I was just getting a glass a water from the kitchen when, all of a sudden I heard a loud crash.
"Robbie?" I called out, but there was no response. "Rob?"
I walked carefully down the hallway to the bathroom. There, I found Robbie passed out on his back. He had clearly fallen over mid-piss, because his dick was still hanging out of his fly and there was a noticeable wet spot on the front of his jeans.
"Um, Robbie," I said. "Robbie, you ok?" I said a little louder. Still, he remained dead to the world.
I knew he was drunk when he came in, but he didn't seem this wasted, so I started to worry that maybe he had hit his head when he fell. I moved closer to him and slapped his cheek. "Robbie, wake up!"
Robbie's eyes fluttered open with a look of confusion. "Bro, I'm sleeping, leave me alone dork," he muttered, as he swatted away my hands. He closed his eyes and went back to sleep.
I looked at the bathroom floor and noticed that Robbie had pissed there as well. "Just great," I said to myself. I bundled a bunch of toilet paper into a ball and dropped it on top of the small puddle to absorb the mess. I left him there to clean it up in the morning, and headed towards his room to tell his date that Robbie was going to need a rain check.
I held my ear up to his door and knocked softly… There was no response. I knocked louder, but still there was no response, so I turned the knob and slowly opened the door.
The bedroom was dark, but the light from the hallway illuminated Robbie's bed like a spot light. And there she was, completely ass naked with her legs spread as she played with her pussy completely unabashed.
"What took you so long," she said lustfully. "I told you I would start without you."
The back-lighting from the hallway must have prevented her from seeing my face—or else she was just as drunk as Robbie. She certainly didn't try to cover up, leaving me to admire her sexy body as she continued to spread her pussy and toy with her clit.
Her tits were even bigger than they appeared under her shirt—probably 34dd's with dark brown nips that were stiff with excitement. My gaze filtered down across her toned stomach marmaris escort and down to the neatly trimmed triangular-shaped furl of black pubic hair adorning her glistening nineteen year old pussy.
"Well, don't just stand there," she said, breaking my trance.
"Hey, no, sorry, um, there's been an accident…" I started to explain the situation with Robbie, but she immediately cut me off.
"You were all talk at the bar," she said giggling as she continued to play with herself. "Now close the door and come eat my pussy like you promised."
I swear I didn't think—my body just reacted. The next thing I knew I had closed the door behind me and I was standing there in the dark, frozen in place as I watched her finger herself from across the room.
"Come on," she pleaded impatiently. "Take your clothes off and come here. I'm so fucking horny!"
I quickly obeyed, unbuckling my pants and pushing them to the ground. I lifted my t-shirt over my head as well, but I left my boxers on as I walked cautiously towards the bed. It was dark, but I still expected her to realize I was not who she came home with as I got closer. But even as I approached the side of the bed, and she looked right up at me, she still didn't seem to notice that I was not Robbie.
"Mmm take it all off baby," She said tugging at my boxers. "Let me see that cock you were bragging about at the bar!"
I silently wondered what Robbie could have been bragging about, since, from what I had seen, it wasn't all that impressive. She watched intently as I pushed my boxers to the floor. My cock dangled at half-mast in front of her, already plump with excitement.
"Mmmm, yes," she said as bit her lip sexily looking down at it. I held my breath as she reached out and wrapped her fingers around it. "Come closer—I want to taste your cock right now!"
With her hand still clutching my cock, I shuffled over to the head of the bed without hesitation. My body shuddered as she leaned in and immediately wrapped her lips around my flaccid member, sucking it right into her warm mouth.
"MMmmm, Mmm," she moaned as she tasted my cock. It instantly grew with excitement and expanded in her mouth as she sucked. She started to bob gently back and forth until my cock grew rock hard and was throbbing with desire.
She looked up at me half-smiling as if to acknowledge the stiffness of my cock in her mouth. She bobbed up and down on several more times, and then pulled off unexpectedly. She took my cock back in her hand, curling her fingers confidently around my thick shaft. She bit her lower lip as she examined it momentarily, and then licked the underside of my shaft right up to the tip.
She started to stroke my cock with her hand just as she closed her lips around its throbbing head and sucked powerfully. Her tongue was fluttering against the sensitive tip as she sucked and I was immediately overwhelmed. I felt like I was going to cum right then and there. Luckily, she relented and pulled my cock from her mouth.
"Does it feel good?" She asked as she slapped my cock playfully down against her cheek. I nodded hurriedly, and she giggled. "I'm going to make you cum so hard, but…" She smiled up at me as she released my cock abruptly and let it hover at attention over her face. "First, you must fulfill your promise," she said as she spread her legs wider in the bed. She reached down and spread her pussy with her fingers, so I could see her pink inner folds and engorged clit. "Now, come eat my pussy like a good boy."
I didn't hesitate for a second. I quickly made my way down to the foot of Robbie's bed and climbed onto the mattress on my knees. I crawled up between her legs until I was mere inches from her pretty little pussy. I could smell the sweet fragrance of her sex and, even in the dark, I could see she just how glistening wet she was.
I spread her legs even wider and kissed the inside of her left thigh. "Mmmmmmm," she moaned softly as I kissed my way up towards her sex. As I got close, I teasingly skipped over her pussy and kissed my way up the inside of marmaris escort bayan her right thigh instead. "Mmmmmm, that's it baby," she moaned softly again, seemingly receptive to my subtle foreplay.
After I planted one last, soft kiss just to the right of her pussy, I extended my stiff tongue and delved right between her warm glistening lips. "Mmmm, oooooh," she purred as I licked slowly and deliberately up her slit, probing my tongue ever deeper as I neared her clit.
She moaned out loudly as I encircled her clit with my tongue, and then flicked it back and forth. "Ohhhhh, oooohhhh, oh please!" She ran her fingers through my hair as I continued to flutter my tongue against it. "Ohhh, OHHHHH! OHHH BABY! OH FUCK JUST LIKE THAT!" She moaned even louder as pulled my face against her neatly trimmed muff.
My tongue instantly delved deep inside her pussy as I closed my mouth over her engorged clit. "Ohhh god yes," she screamed out, as I started to lick and suck on her sweet pussy at the same time. She arched her back slightly and started to grind her pussy against my mouth. "Ohhhhh! OHhh, mmmuhuh, mmmmmmm, MmmmMMM, ooooohh! Oh yes! OH god yes! Ohhh, Ohhhh, your—oh Robbie your mouth!" She screamed loudly. "OH FUCK THAT FEELS SO GOOD!"
I paused momentarily, fearful her loud moans might rouse Robbie in the bathroom down the hall. "Oh please don't stop baby," she said, immediately pulling my face back against her sex. I realized at this point I couldn't care less if Robbie woke up, so I just went back to licking and sucking on her sweet pussy.
"OHHH, OHHHHH, OHHHHH, RIGHT THERE! OH FUCK YES!" She moaned. "OHHH, MMM, OHHHH GOD YES!" As she continued to gasp and moan in pleasure, I could tell she was close. Her pussy was gushing wet and my face was already covered in her juices. "OHHHhhhh! OHHHHHHHH! OHHHH GOD BABY!" She screamed out as she pulled my face harder against her muff.
As she continued to hyperventilate in pleasure, I slid two fingers into her tight opening. "OHHHH, OHHHH FUCK, OHHHHHHHHHHHH!" She moaned as she felt me inside of her. "OHHH BABY FUCK ME WITH THOSE FINGERS!" Her pussy was so sopping wet that you could hear the juiciness as I started to finger her rhythmically. She squirmed in place as I continued to flick her stiff little clit with my tongue.
"UHUH, OH GOD! MmmmmUhuh! UH, UH! OH FUCK DON'T STOP! I'm—I'm cumming! Oh god don't—oooOOHHHH! OH FUCK, YES, YES, OH FUCK YES!" I felt her body convulse on the bed and more her juices careen down my chin as she came.
"OHHH, OHH, OHHH, OHHHHH, OHHH YESSS, OHHHH, OHHHH!" She continued to moan without inhibition. "YES! OHHH GOD YESS!"
All of a sudden, when she was seemingly mid orgasm, she pushed my face away from her pussy and rolled over on to her hands and knees on the bed. "OHHH GIVE ME YOUR DICK!" She panted. "I NEED YOUR FUCKING COCK RIGHT NOW BABY!"
I hardly needed more of an invitation. I crawled over between her legs and pressed the head of my bulging cock against her warm pussy. She gasped as she felt me press slowly inside her tight, wet opening. "MMMmmmm yess," she moaned as I positioned my hands on her hips. I pulled her ass back against my erection, pushing the rest of my cock all the way inside of her. "Ooooh Robbie!" She moaned deeply as the warmth of her pussy immediately enveloped my entire cock. "Mmmmmmm, your cock is soo big!"
I immediately started to stroke my cock inside her, bucking my hips as I held her ass steady. The first few movements were slow and deliberate, but my animalistic instincts quickly took hold as she continued to moan in pleasure. "Ohhh Robbie! Ohhhhh! OHhh, MMmmm, OHH-Uhuh, oh yes! Ohhhh Yes! Uhuh! Oh give me that cock! Mmmmm Yes! OHhh THERE! RIGHT THERE! Ohhhh yes! OHHhh god yes!"
I started to fuck her hard and fast—driving my cock deep into her tight pussy as I repeatedly slapped my midsection against her perfect ass. She loved every second of it, begging me for more as she rocked her body back against mine. "Ohhh, Mmm, oh yes, oh god yes, ohhhh fuck me harder!" She screamed out loudly as I thrust escort marmaris faster inside her. She was clutching the bed sheets as I continued to fuck her from behind. "OHHHH, OHHHH, Oh god yes! Ohhh, Ohhhh, OHHH YES! OHH! Oh yes Robbie! Harder! Fuck me Harder!" She wailed.
"OHHHHHHHH! Ohhh harder! OHHHH GOD! OHHH MOTHERFUCKER YES! OHH YOUR COCK!" She continued to moan. "UHUH, OH GOD YES!" I felt her pussy squeezing my cock as she started to cum once again. "MmmmmUhuh! UH, UH! OH FUCK DON'T STOP!" She moaned. "OHHH, OHHHH—oooOOHHHH! OH FUCK, YES, YES, OH FUCK YES! I'M CUMMING! OHHHH, OHHHH!" Her body shook with pleasure. The reverberations from her tight little twat on my cock were pushing me right towards my own orgasm. "OHHHH, OHHH FUCK! YESS! YESS! OHH! OHHH FUCK!" She moaned desperately.
I continued to fuck her mercilessly from behind as her moans turned to more labored whimpers of pleasure. "Ohh fuck that's it!" I sighed as I felt my climax nearing. "Ohh fuck your pussy feels so good!" I slapped her ass and she squealed playfully. I started fucking her even harder, grabbing her by the hips and thrusting my cock deep inside her warm, wet, sex. "Uhh, ohhh god, mmmMm, baby I'm gonna cum so hard!" I huffed under my breath.
"Mmmm yes baby! I want you to cum in my mouth," she moaned as she looked back at me. I almost came right then inside of her…
Instead, I yanked my cock from her soaking pussy and clutched it at its base to stave off my imminent climax. She instantly flipped around and pushed me down onto my back at the foot of the bed. As she crawled between my legs, she wrapped her fingers around my thick shaft. Then she immediately angled my cock into her mouth and started to suck as she jerked me.
"OHHH FUCK—AHH!" I moaned as my cock erupted within seconds. She didn't skip a beat—sucking and jerking while I filled her mouth with cum; never breaking eye contact as she looked up at me with her big brown eyes. "Ohh fuck," I continued to mutter. "Ohh jesus that's it!"
I was panting with pleasure as the last of my jizz oozed into her warm mouth. She seemed to sense this too, because she slowly pulled off my twitching member. She looked up at me as she opened her mouth to show me her cum-covered tongue. It was such a big load that some slipped from her mouth and onto Robbie's sheets.
She closed her mouth to trap the rest of my seed, and then swallowed exaggeratedly. She opened her mouth once more to show me that she had swallowed it all, as if I wouldn't have believed her.
"Well that was fun," she said smiling as she released my cock. She backed away from me and lay back down at the head of the bed. She spread her legs again and started to toy with her pussy gently. "So, what's your name?"
I nearly choked as I sat up slowly. "I'm sorry?"
"Well, you're not Robbie. That kid is in my psych class and kind of a douche. So what's your name?"
"Uh, Paul—wait, how long have you known I wasn't Robbie," I said somewhat taken aback.
"Right around the time I started sucking your cock," she said smiling. "But it was a nice cock so I just decided to roll with it."
"But you called me Robbie the whole time?"
"I was down to play the game if you were," she said giggling. She spread her pussy with her fingers as she bit her lower lip. "So, what do you say about round 2? I'm Abby by the way."
Prologue:
Abby and I had a good laugh at Robbie's expense. I even showed her Robbie passed out in the bathroom, and she took a picture of him with his dick out to show all her girlfriends (sorry "bro"…).
She spent the night with me in my room, and we did indeed go a second round—and then a third. She was honestly the most amazing girl I'd ever met.
The next morning, she woke me up with a blowjob under the sheets. Robbie walked into my room in the middle of it, clearly befuddled at what had happened the night before and still in his piss soaked jeans. But as soon as he noticed someone under the covers, he immediately apologized, saying he didn't know I had company. Neither Abby nor I ever told him it was her.
Abby and I never started anything serious, but we did hook up from time to time after that. Every once in a while I would get a late night text from her. It usually read: "Hey Robbie, wanna fuck?"